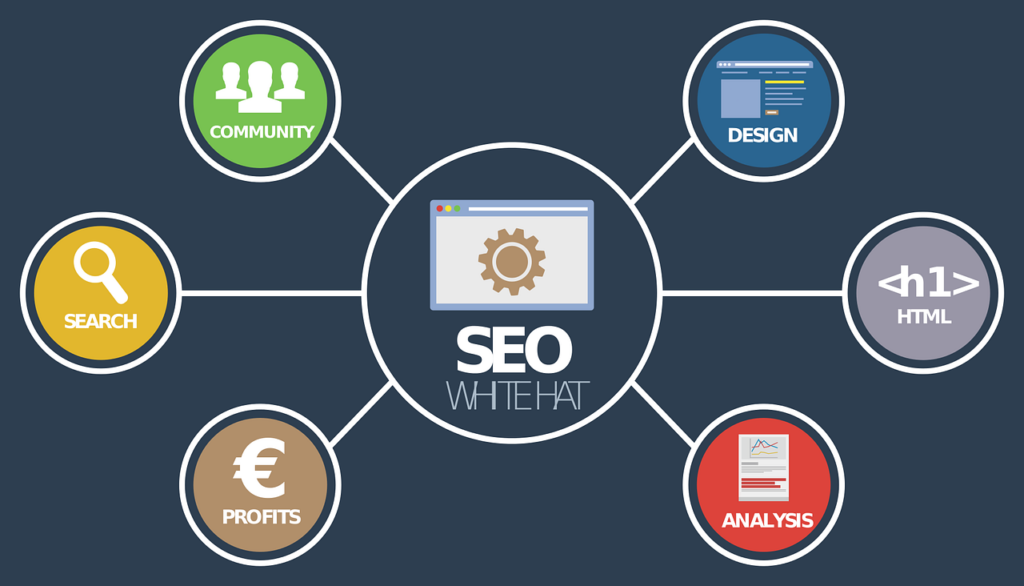 I hope you enjoy reading the following blog post. If you want our team to do your marketing for you, click here.
SEO is the heart and soul of digital marketing.
You can promote your business either through search engines or through social media channels.
Search engines, notably Google, are clear winners when it comes to increasing brand awareness and making online sales. After all, over 3.5 billion searches are made on Google every day. And it isn't just about the number of users but their type of usage. People go to Google for answers to their every little query.
SEO analysts suggest every business must properly utilize SEO to survive in the online world.
This article summarizes what SEO is and how it can help an online business grow.
You should know that just reading one brief article won't make you an expert in this field.
Start with the book of Rana Tarakji, founder of OneSEO, called "A Hands-On SEO Tutorial for Beginners & Dummies". This book is written in an easy to understand language, and even the most experienced SEO analyst would find it thorough and erudite.
It will help you build a strong foundation before you move on to more advanced tactics. You can get this Off-Site SEO Guide on both Amazon and iBooks.
SEO practices are divided into three major categories: Technical, On-Page, and Off-Page. I have discussed all three of them in this guide.
Before you get to implementing SEO practices, you should first learn how search engines work.
How Search Engines Work
Search engines are also websites that bring answers to a query searched by their users. They don't have an answer to every question, so they look for other sites that could provide a useful solution and show it to the user.
Some of the biggest search engines are Google, Bing, and Yahoo. Unlike most websites that don't have any direct visitors, they have billions of users.
Every blogger indexes his website with a search engine so it would show his results when someone searches a relevant query.
But there are dozens, hundreds, or thousands of other websites that want their results shown for the same queries. Search engines look for the most appropriate results and display them in chronological order.
For example, the screenshot below shows Google's result page when you search for the query 'seo guide'. Notice that it returned about 213 million results.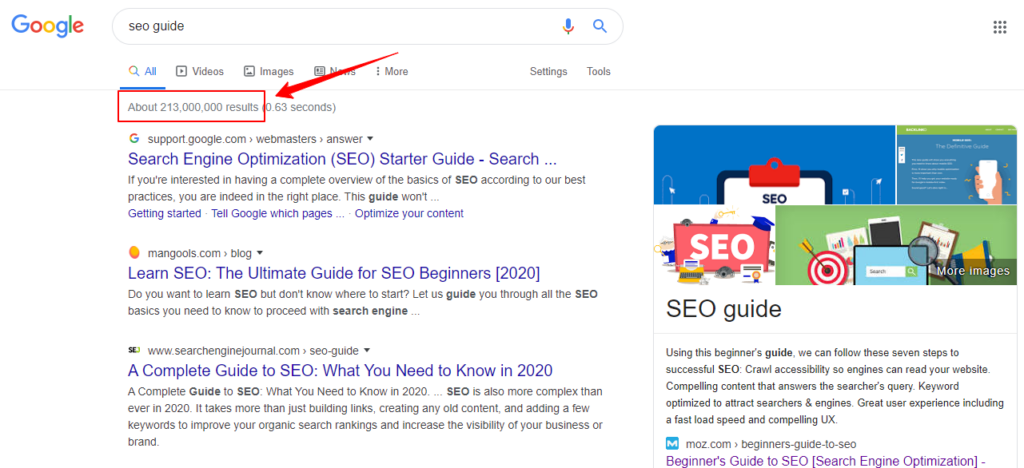 So you have to get make your way up to the first position in SERPs in order to beat that competition.
According to the research of Brian Dean, Google uses over 200 factors to decide these rankings. The strongest of those factors are backlinks, that's why digital marketers acquire services of a link building company.
The first result gets about 33% of all traffic.
The second and third results get around 15% and 9% clicks.
Most people don't bother going to the second page of search results.
In case you're wondering, the result you see on the right side is one of the Google SERP features called Knowledge Graph.
Understanding White Hat & Black Hat
All search engines provide detailed guidelines for webmasters. These guidelines include all practices that you should adopt and avoid. When you follow SEO practices according to the suggested practices, it's called White Hat SEO. If you go against the webmaster guidelines, it's called Black Hat SEO.
There are also Grey Hat SEO practices that don't follow these guidelines exactly but are considered safe – safe from penalty.
When search engine algorithms detect that you are following black hat practices, like building unplanned quick links, to increase your rankings, they penalize your website by significantly decreasing its rank or deindexing it.
Now that you understand how search engines work and the black hat practices you need to avoid, let's move on to learning SEO for dummies.
Technical SEO
You start with the technical SEO of a website when trying to rank it in a search engine. Technical SEO is sometimes also referred to as On-Site SEO as it optimizes the websites itself according to the requirements of search engines.
Most of these practices make it easy for the search engine to crawl and index your website and enhance user experience. Having its knowledge is very important to land SEO jobs. Here's how you do the technical SEO of a website.
Register with Webmaster Tools
Use Google Search Console or Bing Webmaster to configure and manage your website. They provide you all the necessary tools to resolve technical SEO issues.
Optimize Robots.txt
You will find a text file named 'Robot' in the root directory of your website. It tells search engines which pages they should crawl. It is set correctly by default, but you have to check and ensure that no pages are being blocked.
Navigation and Site Structure
Design site structure in a way that helps search engines understand which content is important. All category and sub-category pages should be based on the homepage and easy to navigate for visitors.
Add Breadcrumb List
Breadcrumb is a list of internal links pointing to previous sections or the root page. Google has recommended it in its guidelines because they make it easy for the visitor to navigate your website.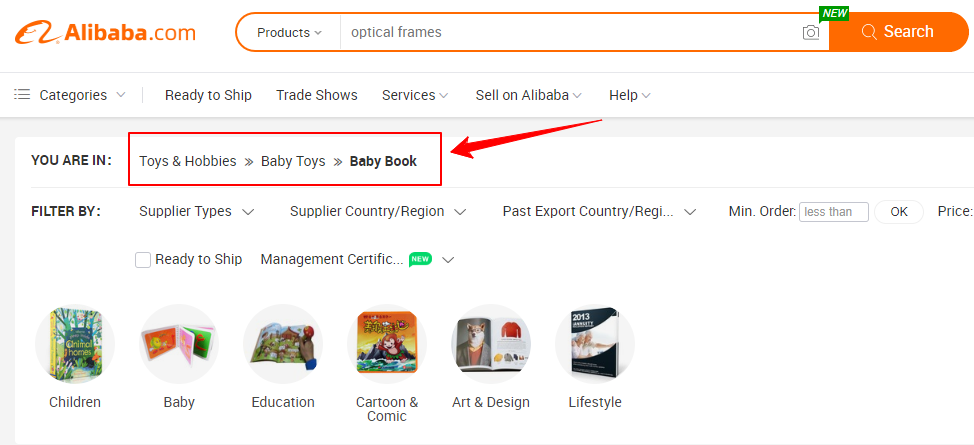 Optimize XML Sitemap
XML Sitemap is a file that lists information of all pages of a website. It also helps search engines understand and crawl a website. To optimize the XML sitemap, include only important pages of your website.
Implement Structured Data Markup
Add code of structured data in your web pages to help search engines understand the context of the content. Though it's a bit too advanced to be discussed in this SEO for dummies guide, it is important that you learn it.
Add SSL
An SSL will change your website URL from "http" to "https". It shows search engines that your website is safe for visitors.
Enhance Website Speed
Over 47% of visitors will leave your page if it doesn't load in three seconds. Use Google's PageSpeed Insights to understand issues and increase sites' loading speed.
Mobile Friendliness
More than sixty percent of the searches on Google are made from mobile devices. Google now checks the mobile version of your website when determining its rank. It is suggested to follow these website design tactics for better SEO and watch out for these possible issues if redesigning it.
On-Page SEO
This part of our SEO for dummies guide mostly focuses on optimizing content. SEO scholars believe that content is king, even in 2020.
The user visits your site for content and search engines want to deliver the best of it.
All other SEO efforts are useless if your content isn't up to the mark. Here's what you need to do to optimize the content of your website.
Keywords Research
Keywords are the queries your target audience searches on Google, Bing, and Yahoo. You need to understand their needs and find the most relevant and searched keywords that also don't have a difficult competition.
You can use tools like Google Trends, Ubersuggest, SEMrush, and KWFinder for proper keywords research.

Content Optimization for Search Engines
Once you have finalized all the keywords that you will be targeting, create content that perfectly answers those queries. Strategically use keywords and synonyms of keywords in your content and follow these practices as well.
Make small URLs and try to use the main keywords in them.
Try to use keywords in headings, title, and meta description, but don't overdo it.
Use relevant inbound links that take the user to other pages of your site.
Add high DA relevant outbound links to provide source and reference.
Properly rename images, write their description, and add captions.
Content Optimization for User
You should also make sure that content is also optimized for the user. Google tracks user behavior on your website and uses it as a ranking factor.
The best practice is to write in a way that is easily understandable for a 12-year-old kid. Make it easy to read and follow a user-friendly structure. It will also ensure that they keep returning for useful content, increasing website traffic.
Off-Page SEO
Off-Page SEO mostly comprises link building though it's more than just that. It usually starts with a strategic plan that involves getting different types of backlinks from relevant platforms using different anchor texts. Here's how you can start off-page SEO for dummies and then take it to the next level.
Guest Posting
It's one of the safest ways to get a backlink that significantly impacts the ranking of the website and benefits your business in many other ways.
It's a hectic task as it involves writing useful articles and emailing bloggers who would be willing to publish them. An easy way out is to acquire guest blogging services while you focus on planning strategies.
Social Bookmarking
Social bookmarks of a page are also considered backlinks and play an important role as a ranking factor. Here are a few social bookmarking sites that an SEO analyst can use.
Directory Submission
Look for niche relevant directories and submit your website there. It gets you a backlink and shows that it's a legit business. Some directories let you add your record for free, while some may charge for it.
Forum Commenting
Go to forums like Quora, comment, answer questions, and add a link to relevant pages of your website. It's the easiest way to build links and increase brand awareness.
Brand Mentions
Mention of your brand name without a link is called a brand mention. This tactic is an essential part of off-page SEO that increases awareness about your business and helps it become a brand in the eyes of search engines.
If you're interested in learning more about SEO, get our SEO for Dummies Guide On Amazon or Ibooks.