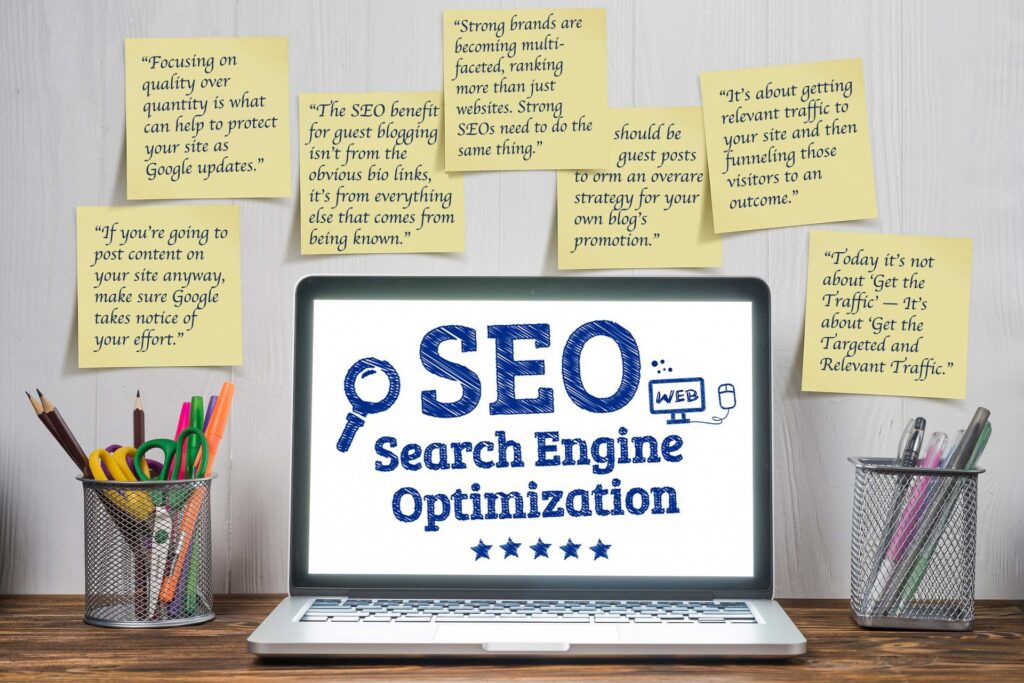 I hope you enjoy reading the following blog post. If you want our team to do your marketing for you, click here.
Any SEO analyst will tell you that Search Engine Optimization continues to be of primary importance when it comes to online marketing. Yet, the latest SEO statistics show that 61% of marketers still claim that generating traffic and leads is their top challenge.
Since the foremost organizational objectives of content marketers are lead generation, sales, and lead nurturing, it is even more necessary to develop a well-planned marketing strategy that effectively integrates SEO tactics. It is no wonder then why the estimated amount that brands and agencies in the United States will spend for SEO services is expected to rise up to $79.27 billion by 2020 from only $72.02 billion in 2018.
Considering the tough competition online, how then do you ensure that your SEO strategies will work to your advantage? Before you think of hiring the number one SEO company for their services, here are some valuable SEO quotes that will help inspire you.
SEO Quotes on Content Marketing
The Content Factory: "If you're going to post content on your site anyway, you might as well take the time to make sure Google takes notice of your effort."
According to the Content Marketing Institute, content marketing is three times more effective in getting more leads compared to paid search advertising. This just goes to show that content is still king and that there's more to just using SEO to increase your search rank.
However, this doesn't mean you should not exert effort into SEO. After all, what good will your content be if your site is not coming up on searches. Combining good content with good SEO is a better way to go.
Adam Audette, Chief Knowledge Officer, Rkg: "Today it's not about 'Get the Traffic' — It's about 'Get the Targeted and Relevant Traffic."
The volume of site traffic used to be the focus of SEO strategies. The more traffic your site gets, the better. However, that is no longer the case.
A high volume of traffic will not matter if your conversion rate is low. What you should aim for is to get traffic that will be relevant to your business. Make sure that your SEO analyst knows how to target the specific market you want so that there's a higher chance of converting those site visits into sales.
Rand Fishkin, Ceo/Cofounder, Moz: "[Content marketing] is a more competitive environment certainly, but those who have real empathy for web users and influencers and have the SEO skills to infuse their work with great keyword targeting, search accessibility, etc., are going to have ongoing success."
Optimizing for keywords and key phrases is still important but it should not be all about choosing those that rank. If you do not understand your target market well, then you're doing it wrong.
Having a content-focused approach that is focused on what you know your audience cares about is key. Keyword optimization is but a small part of SEO. Figure out the intent of the searcher by analyzing the keywords they are using. Once you understand their intent, tailor fit your content to what they are looking for.
SEO Quotes on Link Building
Brian Sutter, Forbes.com: "Sadly, much of the content being published is simply not worth linking to. 75% of it is getting zero inbound links. So forget the 'more is better' approach to content if you want links. Go with quality instead. Your content will generate links only if it is truly exceptional—'remarkable,' as Seth Godin would say."
People used to think that the more backlinks you have, the better your site will rank. However, you wouldn't need to exert so much effort into link building if you choose to focus on creating high quality content instead.
Content is still king and high-quality content is more valuable because it is what matters more to your audience. The more they like your content, the easier it will be to get high quality backlinks too from top ranking sites.
Adam Riemer, SearchEngineJournal.com: "Focusing on quality [backlinks] over quantity is what can help to protect your site as Google updates."
Here's another quote if you need more reason to believe that it's better to focus on quality over quantity when it comes to link building.
Not all links are good. If your site has a lot of unnatural links, you run the risk of Google taking an action against your site. Always make it a point to check on the kinds of links your site has to avoid being penalized. Aim for natural links instead.
SEO Quotes on Blogging
Neil Patel, NeilPatel.com: "Blogging generates the most traffic for companies. When you're consistent at it, blogging leads to more search result traffic. In fact, blogging is the #1 traffic-increasing factor, while SEO is #2."
Good SEO definitely helps a lot in bringing it site traffic. However, it's blogging that gives you a better return on investment. In fact, studies show that those who prioritize blogging are 13 times more likely to see a positive a ROI.
The key though is being consistent. Consistently creating useful and interesting content targeted to your audience's needs and promoting them across your social media platforms will not only drive organic traffic but will also improve and sustain your search rankings.
Craig Fifield, CraigFifield.com: "The SEO benefit for guest blogging isn't from the obvious bio links, it's from everything else that comes from being known."
When you write a guest blog for another site, you can generate traffic through the bio links that will be afforded to you. However, it's not the only benefit that guest blogging services can give you.
Take guest blogging as a long-term opportunity to build your brand. The more you write high quality guest posts that generate a lot of traffic, social shares, and comments, the better your relationship with the blog owners will be and the bigger your network will grow. This gives you more and more opportunities to provide guest posts to other sites.
By increasing your exposure on other sites, you will also increase your chances of ranking higher on search results and the more popular you will be.
Blogtyrant.com: "You should be using guest posts to form an overarching strategy for your own blog's promotion. It's about getting relevant traffic to your site and then funneling those visitors to an outcome.
This is centered around the fact that after Google started penalizing sites for having unnatural links, people started being wary about using do-follow links on their posts. However, as this quote suggests, it doesn't really matter whether the links are do-follow or not.
This may be perceived as an untraditional SEO and there will be some experts who will not agree to it. However, the advice makes sense especially if your site is still new.
The premise is that you will have a better chance at ranking a post if it's up on a larger site with a higher perceived authority. Since the site has a greater amount of traffic, there's a bigger chance that at least some of those will be sent over to your site too. The key is on submitting high quality guest posts even better than something you would put on your own site.
SEO Quotes on Trends and Technology
Kalin Kassabov, ProTexting.com: "Emerging trends such as voice search and the growth of mobile technology are making it more crucial than ever to optimize your business website for local search."
Local SEO plays a major part on the success of any small business with a physical location. You have to make sure that your potential local customers will choose your business over the competition in the area by taking advantage of trends and advances in technology.
For instance, it will be wise to have your SEO analyst optimize your site for local search engine traffic by making sure you have an accurate and up-to-date listing on Google My Business. This guides people to find you when they're searching for a business in your area. Using local keywords when you optimize your content is also a good idea.
Do not forget to importance of reviews. Online reviews have had a major shift in the past few years especially as Google Reviews automatically appear when someone does a search. Studies also show that people value a positive review just as much as a personal recommendation.
Aside from this, pay attention to technologies such as voice search and smartphones. More and more people are becoming comfortable with talking to voice assistants such as Alexa and Siri. Businesses need to learn how to optimize their content based on how people speak.
For instance, there is now a shift to using longtail keyword phrases that are four to six words long all because of voice search. When people do a voice search, they ask full sentence questions. This means that you should now look for question-based keyword phrases instead and shift to using them.
Cindy Krum, MobileMoxie: "Strong brands are becoming multi-faceted, ranking more than just websites. Strong SEOs need to do the same thing."
It used to be that SEO was all about optimizing for Google. However, businesses must realize that there are other engines or channels that have already come to play. This means that instead of driving traffic and engagement to just your website, you must now also learn how to do so in these other channels as well.
Think of how you can increase your visibility in platforms such as app stores, home assistants, and audio-only devices among others. The key is in finding out which platforms your customers use and meet them there.
Jon Henshaw, Coywolf Marketing and CBS Interactive: "Sites will finally start to become simpler and faster as SEOs discover that Google is rewarding sites more than once thought for [first meaningful paint] speed."
Websites these days need to constantly keep up with the ever-changing landscape online. As websites become more complex each year, the more important it is to invest on technical SEO.
One area to focus on is page speed not only because it gets your content to your user faster but also because Google uses it as a ranking factor. Speed also increases the bounce rate and reduces dwell time which affects the rankings indirectly.
Google studies show that users leave the site after 3 seconds, which gives them a bad experience. Google does not like ranking sites with bad user experience which means you must strive to make your pages load for less than 2 seconds.
Jenn Mathews, Jenn Mathews Consulting: "Companies need to adopt machine learning to develop unique content for SEO, beginning with a set of data based on specific variables."
Machine learning has contributed to many scientific projects such as self-driving cars. Aside from this though, it is also responsible for making web searches more effective. Marketers then need to understand how to leverage machine learning because it is expected to change search engine algorithms thereby changing SEO best practices. Machine learning will make for a more result-oriented and simplified system as manual algorithms will be rendered unnecessary.
For instance, Google's artificial intelligence engine, TensorFlow, will simplify research and enable computers to more accurately predict user behavior. Knowing how to adapt to these changes is critical and will place in you in a better position to snag the top spot in the search results.
Summary
Search Engine Optimization is definitely not dead. The truth is, it is still very crucial to business success. However, marketers must be vigilant in keeping up with the constant changes in technology and trends happening in the online landscape. This will help improve their ranking and ensure that they are giving their customers exactly what they need as fast as possible.
Content marketing, blogging, and link building are also still key factors in any successful SEO strategy. Businesses must learn how best to leverage these areas in combination with SEO tactics in order to improve their performance as a whole.